Black Mirror season 3 has debuted on Netflix and lists have swiftly been made ranking the six episodes. It's a show that elicits passionate feedback, and perhaps that's by design. But maybe we should be looking at the show as a whole rather than its parts.
Showrunners Charlie Brooker and Annabel Jones are halfway through shooting season 4, but with the latest season they're building on what appears to be a Black Mirror universe—one that extends to real life, if social media is to be believed. A scroll through Twitter confirms that many people think reality is like an episode of Black Mirror. How should Brooker and Jones take that?
"It's good publicity for the show but terrible news for humankind," Brooker tells the Daily Dot. "If somebody invents a 3D printer that squirts emojis at you, that's like Black Mirror. If Donald Trump does anything, Black Mirror. Brexit, Black Mirror. There's no shortage of fucked up-edness."
"I think we take it as a compliment," says Jones.
One of the most terrifying episodes is the Dan Trachtenberg-directed "Playtest," in which an American tourist named Cooper (Wyatt Russell) is roped into demoing a new "personal survival" game that makes you literally confront your own fears via augmented reality. Brooker says he wanted it to be a "haunted house story," and in a recent Reddit AMA, he and Jones talked about creating something like a "nightmare mode" for people watching a second time, making it more interactive. Could that happen in the future?
"We did have this crazy notion that if you played it a second time, the moment when Cooper goes into the bedroom and Katie's taunting him over the earpiece, I wrote a version of it where he goes into the room and sees Victoria from [season 2's] 'White Bear' and then he starts seeing things from other previous episodes and it goes really bizarre and breaks the fourth wall completely," says Brooker. "And then he starts smashing the screen that you're watching him on.
"The idea was that it was an elaborate Easter egg for viewers who'd played it a second time… Logistically it would have been extremely expensive and a logistical nightmare. We had to abandon the idea but that's not to say we wouldn't in the future go forward and do… a more vaguely interactive thing."
He adds that he asked Netflix if it was possible to have Cooper's tether to reality, Katie (played by Wunmi Mosaku), address viewers in different cities, to break the wall even further. Going more meta, the episode features several video game Easter eggs. And another reference to "White Bear."
So is there something of a Black Mirror extended universe? Yes, and it's connected with "string," jests Brooker. Furthering that idea, he notes the status update from Prime Minister Michael Callow ("National Anthem") on a phone in season 3's "Nosedive," which is itself a reference to last summer's #piggate. Victoria from "White Bear" shows up in season 3's "Hated in the Nation," as does Callow—both via the internet.
Brooker also wants to market webcam covers branded with Kenny's mom from season 3's "Shut Up and Dance," a highly divisive episode about malware, extortion, and blackmail. (A Waldo sticker on a laptop references season 2's "The Waldo Moment.")
Appropriately, Brooker explains that the initial idea for "Shut Up and Dance" made him laugh, unfolding something like Reservoir Dogs.
"Open with guys being told the part they're being made to play," he says. "A heist movie. These are all strangers being blackmailed. That was the initial thought behind it. In discussion, you come to a place where, as we often do, you take an idea that's a comic one and play it straight to the grim conclusion. [There's] lots of grim comedy in that episode… [Some think] it's nail-biting and harrowing and others can't see the point of it. That's the nature of the beast.
"It's like a Magic Eye poster, to use a '90s reference."
Nosedive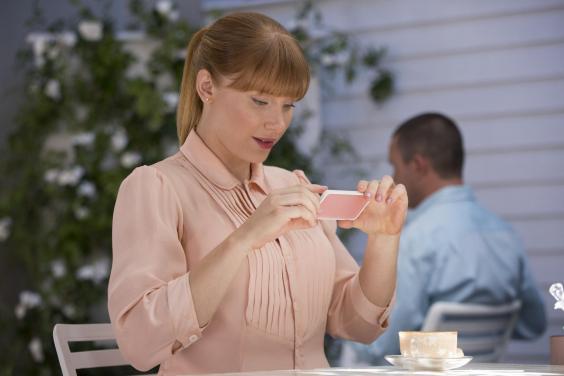 The National Anthem 
Season 3's opening episode has several callbacks to the first ever installment, 'The National Anthem' – you know, the one where the Prime Minister has sex with a pig on live TV.
'Nosedive' follows Lacie (Bryce Dallas Howard), a woman who gets caught up in a time where rating everything out of five is so essential to everyday living that people judge you socially by your personal rating, whether low or high. After posting the photo of her morning coffee – plus strategically placed biscuit – we can see that the app's highest rated posts includes one from Prime Minister Michael Callow himself (Rory Kinnear).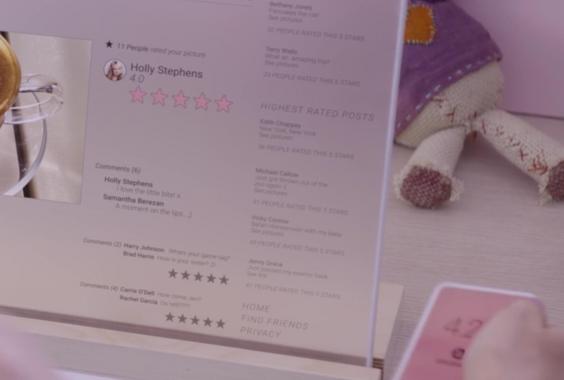 It reads: "Just got thrown out of the zoo again :(" – it seems his antics have had long-lasting effects.
Later on in the episode, Lacie finds herself among a group of fans of fictional TV series Sea of Tranquility; it turns out that's the "HBO moon western" worked on by the special effects expert who assists with Callow's infamous pig broadcast.
Playtest
Fifteen Million Merits
This one isn't proof that episodes exist in the same world, but it's a nice touch all the same: this episode shares an actor with "Fifteen Million Merits" – namely Hannah John-Kamen who starred as the first winner of that episode's talent show, Hot Shots. Brooker told us how there were plans to include the song she sings in the episode in 'Playtest' but licensing issues got in the way.
White Bear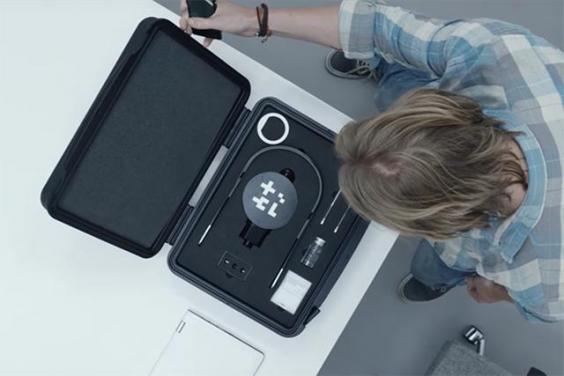 The logo from the disturbing season 2 episode appears on the equipment that turns into the whack-a-mole game played by Cooper (Wyatt Russell).
Hated in the Nation
Keen-eyed viewers will notice that the magazine Sonja (Kamen) shows Cooper – the one emblazoned with Saito's CEO – also mentions Granular. Yes, that's the company behind the (killer) bees in feature-length finale 'Hated in the Nation.'
Shut Up and Dance 
The National Anthem. Fifteen Million Merits, White Bear and White Christmas
As the episode's climactic revelations land, the viewer can see a blackmail victim open a web page detailing the racist emails she sent; it turns out this page is also chock-a-block with several callbacks to episode's past:
'Talent show Fifteen Million Merits launches next week' can be seen at the top of the toolbar while two further recommended stories on the webpage's sidebar hark back to 'The National Anthem' – poor Callow's getting divorced – while the other offers an update on the trial of Victoria Skillane – the girl at the centre of traumatic episode 'White Bear.'
Elsewhere, the show's festive special 'White Christmas' is referenced. 'One smart cookie? Click to witness the kitchen tech of tomorrow.' A refresher of the episode will alert you to the fact that 'cookies' are, in fact, new widgets able to replicate a person's consciousness and the aforementioned kitchen tech is deployed in the episode, lived in by Joe (Rafe Spall) for 1,000 years per minute.
The Waldo Moment
Kenny (Alex Lawther) has a sticker of Waldo, the CGI character – led by Daniel Rigby's protagonist – that rises to national prominence.
Men Against Fire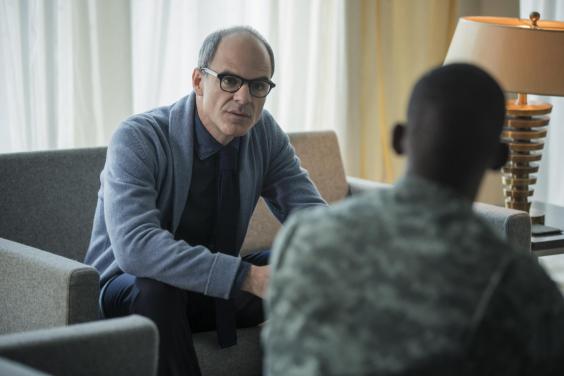 Fifteen Million Merits
Another callback tot he first season episode, this time through character Raiman's singing of Jessica Brown-Findlay character Abi Khan's "Anyone Who Knows What Love Is (Will Understand)."
Hated in the Nation
Michael Callow gets his third and final mention in season 3 as a trending topic on Twitter alongside the malevolent  #DEATHTO hashtag at the centre of the story. Furthermore, the featured news reports are from UKN, the same channel shown in both 'The National Anthem' and 'White Christmas.' 
The events of 'White Bear' are an omnipresent factor in the background of this episode; first, Blue (Faye Marsay) reveals the reason she left police forensics is because of the Ian Rannoch 'child killing case' – the one which saw him kill a six-year-old girl alongside 'White Bear' character Skillane. The rolling news ticket on UKN reveals that her murder case is 'thrown out of court,' which leads to, perhaps unsurprisingly, her very own  #DEATHTO hashtag.
It seems not everyone believes the White Bear Justice Park is ethical, however – one trending topic reads #FREETHEWHITEBEARONE.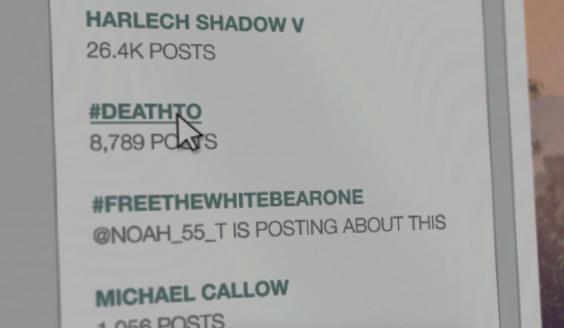 Yet another trending topic references a past episode, this one season 3's very own 'Playtest': Harlech Shadow V is a game developed by Saito. News channel UKN can also be seen announcing an 'immersive new gaming system' which is very probably the one poor Wyatt ends up embroiling himself in. Thankfully, his disappearance doesn't go unnoticed – the same channel can later be seen reporting that Saito has been questioned about a 'tourist dissapearance.'
When a televised news report explains how Callow's Chancellor is at the centre of his very own  #DEATHTO threat, a bulletin underneath reads: 'US military announce MASS project' which is, of course, the one Stripe signs up to in the episode before.